Senior Independent Living at Asbury Methodist Village
You're on the move, ready to embrace each new day. You're ready to be free of the burdens of home maintenance and to enjoy a fresh sense of opportunity. All this can be yours when you live at Asbury Methodist Village senior residential living community, exceptional retirement living in Montgomery County, MD. View our virtual tours at the bottom of the page.
A Vibrant Retirement Community You'll Love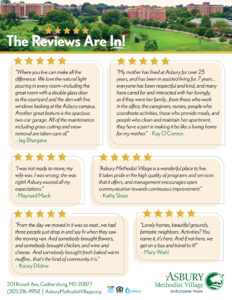 You'll find a selection of beautiful, pet-friendly senior residential living options to fit a wide range of tastes and budgets. Experience the difference that comes with having an award-winning senior wellness program right outside your door. Plus, by living in a continuing care retirement community, you can enjoy all the benefits of first-class amenities and meaningful experiences, convenient services, and security for the future. All you have to do is enjoy the company of your new neighbors and embrace all that the exceptional Asbury senior independent living lifestyle has to offer.
With entrance fees starting around $143,000 and monthly services fees beginning at $2,920, you will be surprised how affordable living at Asbury Methodist Village can be.
Learn More About Independent Senior Living in Montgomery County, MD
Call 301-216-4001 for an explanation of how our entrance fee program is neither renting or owning, but better than both! Got questions? Get answers to some frequently asked questions about independent living in Gaithersburg.