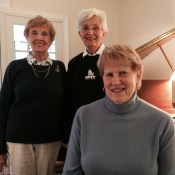 When Barbara Fletcher, Nancy Fassett and Margaret Sugg first teamed up as roommates in Washington, D.C., during the 1960s, they never would have predicted they would be moving to a retirement community together four decades later. But in October, that's just what these lifelong friends did when they moved into a brick duplex in Asbury's Villas neighborhood.
The trio purchased their first home together in 1975 in Bethesda, Md. That arrangement followed several years living together in a Georgetown row house when Nancy worked as a school librarian and Margaret and Barbara for the same congressman on Capitol Hill. "As people would move out, we just never got additional housemates and that way we got to keep all the closet space for ourselves," Nancy jokes.
"We thought Nancy was crazy when she first started talking about buying a home together," Margaret says. Given their list of "musts," which included staying in the same neighborhood but gaining a pool, wet bar and off-street parking, that's not surprising. But then their realtor convinced them to look at a five-bedroom home in Bethesda that had all the room they needed – and a pool.
Still, they figured they would own the home together for a few years before careers or marriage intervened. Instead, after 40 years Barbara found herself broaching the subject of moving to a retirement community. The trio still own a second home in Duck, N.C., where they spend time around the holidays and during the summer.
For most house-related decisions, the women have successfully relied on a rule where if two of them are in agreement they carry the day. "We really get along remarkably well and agree on most things," Margaret says. For major decisions such as the move to Asbury, however, the group must be unanimous, and Nancy took some convincing. She loved their Bethesda neighborhood and house.
"It was a challenge to find a space in a retirement community that was big enough," Barbara says.
They had toured several communities in the metro-D.C. area, and had looked at a large apartment in Asbury's Park View building. But when they received a call saying one of the Villas two-level brick duplexes was available, space was no longer a concern.
"All we had to do then was find Nancy a Starbucks nearby," Margaret laughs.
"I really do have to have my Starbucks fix every day," Nancy says with a smile.
The women hired a relocation service, which Margaret highly recommends. They moved into their Villa on October 20. Barbara took the spacious basement, which has a bedroom and bath and large group living area. They hired a contractor to screen in a deck beyond the living room's French doors and add built-in bookcases, an entertainment unit and a wet bar to the lower level – a must for Barbara and the ladies' daily Happy Hour tradition.
"We're still settling in and exploring all the things there are to do on the campus," Barbara says. "We're excited to get our renovations completed and host our first Open House here for all our friends and new neighbors."