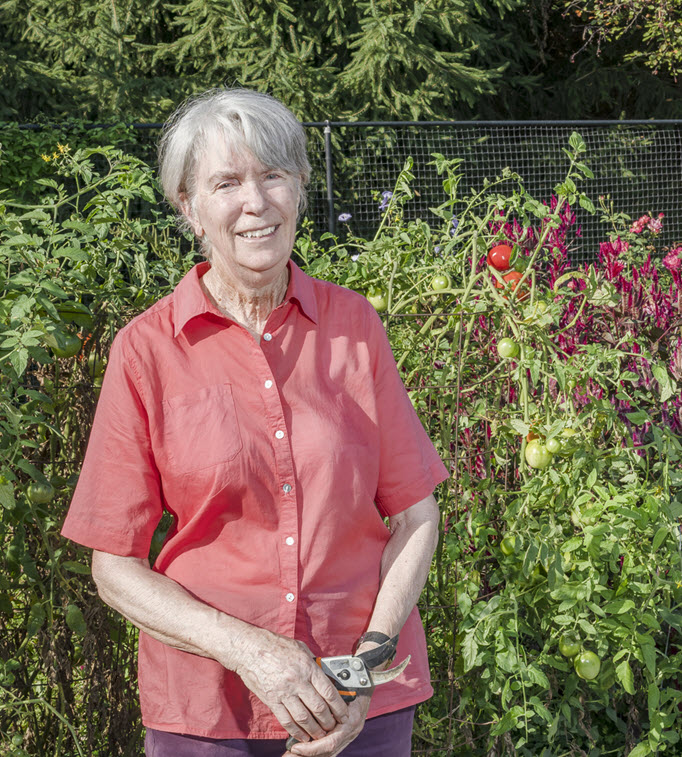 Ask gardener Linda Davis the secret to her 'green thumb' and she will mention "learning some soil science and reading the clues plants give as they grow."
A genuine horticulture hobbyist, Linda has kept a garden most of her adult life. And when she and her husband Winston began considering a move to senior living, Asbury Methodist Village's 'perfect' community gardens factored almost heavily into their choice as the breathtaking campus views and maintenance-free living.
It was late springtime when Linda first walked among the daffodils, peonies, and roses that dozens of Asbury lovingly tend in their large plots–along with an incredible array of fruits, vegetables, and grains. "I was so touched. It seemed perfect. Better than the garden at my house!" she says. "They are situated in a great place–good sun exposure, good soil, and a deer fence."
She makes daily visits, sometimes spending two hours tending to her plot. "I plant what I want to eat, the flowers I want for bouquets, and anything I have learned about that I would like to try. One year it was cotton (a smashing success). This year it is catnip.  I also plant flowers for the butterflies and bees, and cardinal flowers for the hummingbirds," says Linda.
Autumn is the most cherished season for this gardening enthusiast. "I like the fall best because it is the harvest season, the earth is warm, and the air is wonderful on crisp fall days," she says. "I harvest berries, the last of the tomatoes, and squash and then plant cover crops (to protect the soil) in selected areas of my garden. Although not strictly a garden activity, I preserve my harvest by canning tomato sauce, and I make raspberry jam in the fall."
Over the years, Linda has put her keen interest in 'soil science' to the test planting, growing, and harvesting wheat. "I have grown it four times. We plant in the fall, harvest in June. Asbury has some old greenhouses in another part of campus, and I dry the wheat slung over bamboo poles. Then we bring it home and thresh and winnow it in the kitchen," says Linda. "My husband has taken over the bread-making. He's very good at kneading the bread and slamming it down on the counter!"
Linda's most important advice to novice gardeners?
"Read the plants as they grow. They will tell you when they are thirsty, when they are unhappy for one reason or another, when they are mature, and when they are ready for the compost bin. I am reminded every day-everything is connected, everything changes, pay attention," she says.
When asked if she could wave a 'gardening' magic wand, for what would she wish? "I would like to trellis my squash plants, a technique that two of the other gardeners used this past summer. And finding gardening gloves that don't wear out!" proclaims Linda.
Like Linda, horticulture hobbyists thrive at Asbury Communities as they continue to cultivate, plant, nurture and grow vegetables, flowers, and even butterfly and bee attractors. You can too!